Huang Yong Ping, Thousand Armed Guanyin (detail), at Red Brick Art Museum, Beijing
photograph Luise Guest
It is that time of year once again, when every form of media is filled with lists. What to buy, what to see, what to do, what to read, how to lose all the weight gained from what you ate, how to restore your finances from the impact of what you spent, and now, of course, what was good and bad in 2014. Why should this blog be any different?
So, here is my entirely personal list of the ten best art experiences of 2014. It was a year of art as spectacle, in many memorable instances, and of art dominated - sometimes entirely suffocated - by theory, in other far less memorable and disappointing instances. It's MY list, so naturally there is a major focus on China - what else would you expect? I had originally intended it to be the typical "Best and Worst of..." list, but then decided I would much prefer to write about what I loved. Yes, I was disappointed in Christian Boltanski at Carriageworks in January - despite my admiration for this artist I found the installation underwhelming. The current exhibition curated by Sun Yuan and Peng Yu at three major Beijing galleries, Pace, Galleria Continua, and Tang, disappointed and annoyed me. "Unlived by What is Seen" (um, what?) reveals a triumph of rather obvious and frankly half-baked theory over any visual, visceral or rigorously intellectual engagement. I loved Qiu Zhijie's 2012 Shanghai Biennale but this year's iteration curated by Anselm Franke was a dry theoretical exegisis that made me not want to see it. And the exhibition of figurative painting at Shanghai's Long Museum curated by Xu Zhen (of whom more later in this post) was just plain incoherent. I loved Pop to Popism at the Art Gallery of New South Wales but I did wonder, in this massive survey of the influence of Pop on artists through the 1980s and beyond, where were the Chinese Political Pop and Cynical Realist artists? But enough of the complaints - on with the Shock and Awe! And there was plenty of that, and spectacle, too, to delight and surprise me in exhibitions from Beijing to Shanghai, from Brisbane to New York. Not so much in Sydney, sadly, with the notable exception of the White Rabbit Gallery.
The title of my blog also gives the game away. For me so much of the excitement of contemporary art comes from introducing my students to particular artists and works. This was the year of Xu Bing for my senior high school students. To see them enthralled by "Phoenix"; to listen to their impassioned discussions of the way in which his choices of materials embody complex meanings; and to read their critical writing, with interesting links to works by other artists ranging from Damien Hirst and Tracey Emin, to Claire Healey and Sean Cordeiro, to Liu Zhuoquan, and to Fiona Hall was wonderfully exciting for me. With my resourceful assistant I spent a long time tracking down permission to show them a fantastic documentary made by Daniel Traub which deserves a general release. Traub very generously allowed me to show it to my students as long as I promised faithfully never to disclose the password - to anybody, ever. The kids, of course, loved that bit of cloak and dagger secrecy. I have since discovered that it is now available for purchase by educational institutions and I highly recommend it - here is the link to Magic Lantern Films.
One of Xu Bing's Phoenixes soars over Beijing, outside the Today Art Museum
#1: Xu Bing, "Phoenix" in the Cathedral of St John the Divine, NYC, September 2014
In September I saw the work for myself. Xu's two giant Chinese phoenixes, Huang and Feng, are entirely constructed from the junk and rubbish he collected from building sites in Beijing's rapidly transforming CBD, the detritus left behind by the migrant workers who are the unsung (and often openly despised) heroes of China's transformation and growing wealth. When Xu Bing was commissioned by the developers of new financial towers, connected by a glass atrium, he visited the site and was shocked by the conditions in which these rural migrants lived and worked. He saw them as heroic, and decided at that point that his work would be constructed to honour their labour, The glass atrium reminded him of a birdcage, and the Phoenix of course is redolent with symbolism in Chinese history and culture. The developers were not too impressed with giant sculptures made, essentially, with rubbish, and asked the artist to cover them with crystals. Xu Bing refused, and then the project languished for years, in part due to the global financial crisis. Later purchased by a millionaire after its rejection by the Hong Kong developer who had just wanted an auspicious symbol for his building (oh, the irony!) it is currently still installed in the magnificent echoing nave of St John the Divine Cathedral on New York's Upper West Side, a sacramental space which provides new layers of meaning for the work. Describing his process, Xu Bing said,

"

The method is unsophisticated, like Chinese lanterns. At the same time it is also in keeping with the Western concept of ready-made assemblage. The entire process of creation forms an interactive relationship with the environment and Chinese society."The two monumental birds "bear witness to the complex interconnection between labor, history, commercial development, and the rapid accumulation of wealth in today's China." In the cathedral, they evoke the back-breaking labour of poor workers globally, who provide the comforts and material goods that we in the developed world take entirely for granted.
Xu Bing, 'Phoenix' 2008 - 2011, in Cathedral of St John the Divine, New York, image source www.xubing.com
#2: Zhang Xiaotao "In the Realm of Microcosmic" at
Pékin Fine Arts
, December 2014
My second most awe-inspiring art experience this year took place just two weeks ago, in Beijing. Zhang Xiaotao credits Xu Bing as his most significant influence, his "master" in the old Chinese scholarly tradition. Zhang Xiaotao was trained as an oil painter but now heads the New Media Department of the Sichuan Academy of Fine Arts, and Xu Bing is his PhD advisor. His extraordinary animations shown at the 2013 Venice Biennale in the China Pavilion's "Transfiguration", curated by Wang Chunchen, were on exhibition at
Pékin Fine Arts
in Beijing's Caochangdi. It was there that I spent a couple of hours with Zhang, discussing his works and his ideas about contemporary art and culture in China.
"Sakya" (2010-2011) represents the struggle to retain spirituality in today's China, and is focused on a major Tibetan temple which was partially destroyed by Red Guards during the Cultural Revolution.
Zhang Xiaotao, still from Sakya, image courtesy the artist and Pekin Fine Arts
"The Adventures of Liang Liang" (2012-2013) is particularly charming, as he and his team animated the fantastic drawings of his eight-year-old son to create a sweeping allegorical adventure which blends Chinese traditional folk tales and mythology with video games and cartoons, and a child's-eye view of the world, from horrendous traffic jams to transiting through airports (represented as a zone of hell) as he accompanies his father on his travels.His command of the new language of 3D animation creates an experience which is entirely immersive. Spectacular, yes, but never for its own sake, as his works are profound and thought-provoking. Like Xu Bing, the artist whom he most admires, he says that the conceptual intentions are the most important thing, and the technologies, whether of oil painting, photography, video or 3D animation, are just the tools with which an artist can convey his or her ideas.
With Zhang Xiaotao in front of his work "Liang Liang" at Pekin Fine Arts, December 2014
#3: "Xu Zhen, a MadeIn Company Production" at the Ullens Center for Contemporary Art, Beijing, April 2014
Xu Zhen is a key figure in Shanghai's art scene and his individual identity is now subsumed by his
"contemporary art creation company" MadeIn Company which he founded in 2009, as well as his newly launched brand "Xu Zhen."
A witty comment on the inevitability of branding in the contemporary (especially the Chinese contemporary) artworld and the triumph of marketing and globalisation everywhere.
The exhibition was curated by UCCA Director Philip Tinari and UCCA Chief Curator Paula Tsai and it was nothing if not spectacular. I reviewed the show for The Culture Trip: Beijing's Best Spring Exhibitions: City of Artistic Spectacle
An extraordinary diversity of installations, performances and objects across multiple platforms and media makes for a very powerful experience, sadly not always the case in the contemporary art museum. The exhibition as a whole, and individual works within it, pack quite a punch. Surprise, delight, awe at the artist's sheer inventiveness is the initial audience response, followed by a growing awareness of Xu's thoughtful representation of some of the big issues of our times. The Duchampian wit and irreverent Pop sensibility is underpinned by the artist's critical gaze on both Chinese society and the international art world.

The UCCA show included more than 50 installation pieces, 10 videos, 40 painting and collage works and several performances (including slipper clad grandmothers who followed audiences around the gallery.)
One enters the museum to encounter a monumental sculpture in which the heads of Ancient Greek gods and goddesses have been replaced by inverted Buddhist statuary. In Xu's hands this literal overlapping of East and West, the continuing concern of so many Chinese artists, becomes parodic. A multi-coloured Goddess Guanyin presides over the 'ShanghArt Supermarket', a replica of a convenience store, staffed by cashiers at the cash registers, in which the contents of every package have been removed – and are for sale. This is the literal embodiment of consumerist emptiness. In an interview with Ocula the artist said 'We consider that exhibitions nowadays are a product, and that art is being sold…' You wander through rooms containing museum vitrines showing the cross-cultural connections of bodily gestures, or witty replica oil paintings complete with carefully rendered camera flash. Courbet's notorious La Source with camera flash obscuring – of course – the very source of the painting's controversy cleverly skewers the phenomenon of art tourism whereby people experience artworks only through the lens of their camera. Images like these may be found in many vernacular Chinese photographs of the 1990s as citizens took up the opportunity for travel outside China.
Xu Zhen, installation view, UCCA Beijing, Photo Eric Powell courtesy UCCA
Cai Guo-Qiang,
Heritage
, 2013. 99 life-sized replicas of animals, water, sand, drip mechanism; installed dimensions variable;
commissioned for the exhibition
Falling Back to Earth
, 2013; proposed for the Queensland Art Gallery collection with funds from the Josephine Ulrick and Win Schubert Diversity Foundation through and with the assistance of the Queensland Art Gallery | Gallery of Modern Art Foundation.
Cai Guo-Qiang China b.1957
Head On 2006,
99 life-sized replicas of wolves and glass wall. Wolves: gauze, resin, and hide
Photo by Yuyu Chen, courtesy Cai Studio.
Lu Xinjian, City DNA Beijing, 2010, acrylic on canvas, 200 x 400 cm,
image courtesy White Rabbit Gallery
Wang Qingsong, "Follow You" 2008 C-Print, image courtesy White Rabbit Gallery
Huang Jing Yuan "I Am Your Agency" 2013, image courtesy the artist


For me, the major highlight of "Commune" was the opportunity to see once again Gao Rong's extraordinary embroidered installation, a hyper-realist simulation of the simple house of her beloved grandparents, with whom she grew up in Inner Mongolia. This lifesize simulacrum, "The Static Eternity" is a way of freezing memory and stopping time.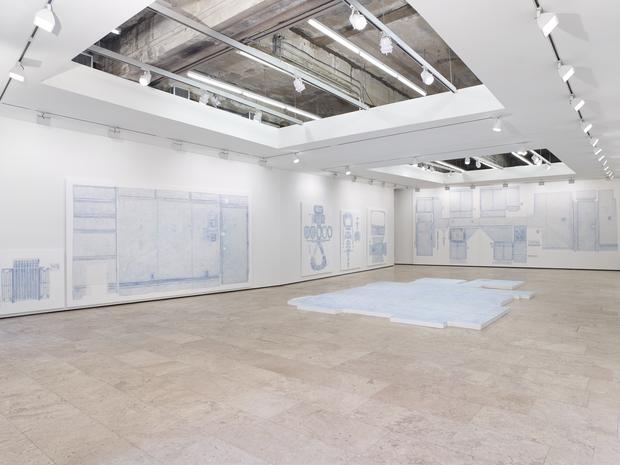 Do Ho Suh at Lehmann Maupin, Chelsea, installation view
Liu Bolin
Head Portrait
' 2012. Courtesy Klein Sun Gallery, NY. © Liu Bolin
Liu Bolin,
Security Check No.2
, 2014, 205x95x55cm. Courtesy Klein Sun Gallery, NY. © Liu Bolin
Liu Bolin '
In Junk Food No.5
, 2014. Acrylic on copper 36x36x26cm. Courtesy Klein Sun Gallery, NY. © Liu Bolin
Xiao Yu "Ground" 2014 image courtesy Pace Beijing